MIKROFONU DIENA ar kompānijas Soyuz dibinātāju Davidu Artūru Browningu 2019. gada 11. maijā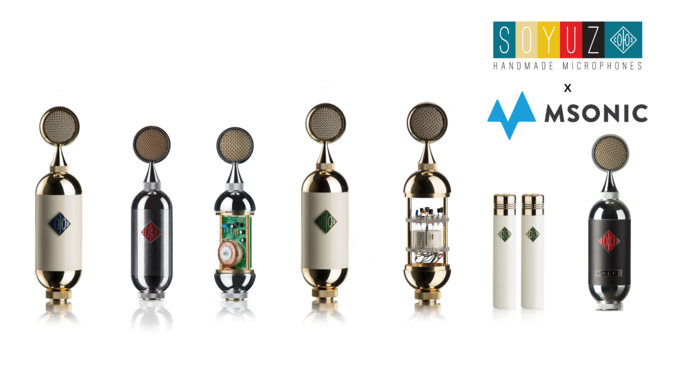 msonic Baltic un Soyuz microphones aicina visus 2019. gada 11. maijā apmelēt atvērto MIKROFONU DIENU, plkst. 16.00 Msonic Baltic Tallinn Kultuurikatel skaņu studijā Põhja pst. 27a, Tallina.
Ieēja ir bezmaksas un visi ir laipni lūgti!
Davids Arthurs Browns, viens no krievu mikrofonu kompānijas Soyuz dibinātājiem, iepazīstina ar savu atjaunināto produktu līniju un apspriež šādas tēmas:
Kā masveidā ražoti mikrofoni atšķiras no roku darba?
023 Bomblet - Soyuz unikālā mikrofona un oriģinālā kapsula aizraujošā vēsture.
Iepazīstinām ar Launcher Magic Box, kas nodrošina 25dB krāsainu pastiprinājumu dinamiskiem un lentes mikrofoniem
Lampas mikrofoni pret FET mikrofoniem.
Mēs salīdzināsim Soyuz mikrofonus ar labi pazīstamu klasiku, tādu ka Neumann U87 un AKG C414 un ierakstīsim  vīriešu un sieviešu balsis.
Atvērtajā mikrofonu dienā mēs arī demonstrēsim vairākus citus mikrofonus no Vanguard Audio Labs, Townsend Labs, Coles Electroacoustics, Telefunken Elektroakustik, Mojave Audio uc..
Audioinženieris José Diogo Neves ir Soyuz mikrofonu aktīvs lietotājs. Viņš dalīsies ar savu lietotāja pieredzi un dos dāžus padomus.
***
MICROPHONE DAY with the founder of Soyuz Microphones, mr David Arthur Brown on 11 May, 2019
msonic Baltic and Soyuz Microphones are delighted to invite you to an open MICROPHONE DAY on 11 May, 2019 at 16.00 at msonic Baltic showroom and studio in Kultuurikatel, Põhja pst. 27a, Tallinn, Estonia.

Free entry!
Founder of the hot Russian microphone startup Soyuz Microphones, mr David Arthur Brown, introduces their renewed product lineup and covers following topics:
What makes handmade microphones different from mass produced ones?
023 Bomblet - the fascinating history of Soyuz' most original microphone and it's totally original capsule
Introducing The Launcher, the little magic box that makes dynamic and ribbon mics sound amazing with its 25 dB of colored gain
Tube vs FET microphones
In addition, we will compare Soyuz microphones against well-known classics such as Neumann U87 and AKG C414 with male and female vocal shootouts.
Female vocals are performed by Kadi Toom, male vocals by David Arthur Brown.
Recording, mixing and mastering engineer mr José Diogo Neves is keen user of Soyuz microphones and will share his user experience.
On the open microphone day we will also showcase several other microphones from Vanguard Audio Labs, Townsend Labs, Coles Electroacoustics, Telefunken Elektroakustik, Mojave Audio and others.
David Arthur Brown is a singer and songwriter from Los Angeles known as a founder, lead singer and songwriter of Brazzaville and as a former touring saxophone player for Beck. On 2013 David teamed up with Pavel Bazdyrev – a young Russian businessman – and formed Soyuz Microphones to build world-class microphones in Russia. By now their company has grown to 20 full time employees. Soyuz microphones are being used by the likes of Coldplay, Radiohead, The Lumineers, Paramore and many other notable artists, engineers and producers.

Kadi Toom has been involved with rock bands since 11. From 17 she started solo career, collaborating with several known musicians and producers. She has produced three LP-s and one EP, one of them – "You" – was also released in Portugal. During later years she has released several singles, but not a full length album. As of today, Kadi is mainly live-performing acoustically.